Hi bloggers,
I was thinking of possible conversions for my battlesuits in my Tau army. I want them to have a really agile look so they need to be slimmer and less boxy. I also want them to have the slim twin jet pack where the thrusters on the pack are converted so they are together. Like this: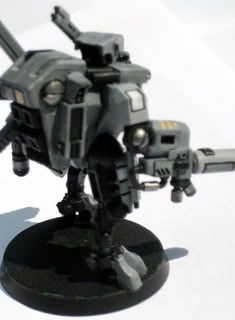 This jetpack.
I also want the missile pods to be wrapped around the arms and be an integral part of the suit. I hate how the guns seem so 'bashed on' like an after thought.
I'm not sure about the helmets but I will try and make them slender.
The legs will be dogs legs like this:
I will try and get a prototype built up soon. Sorry for the random assortment of photos with no easy way to imagine them but try and think of it. Also
Here
are some of my inspirations.
So do you think it would work?
EDIT: Just reached my first 1000 pageviews! Thanks everyone!