Todays fluff is about the Falcon (the only Eldar tank I haven't tried yet) but will also be a little rant. To me this is a perfect example of GW lack of Fluff to Rules ability and general common sense. It is the opposite to the Raveners last time, they were given acute senses, but no shooting weapon?!?
Anyway, here's the bit of fluff I'm talking about, it's found in the Falcon unit entry in the Eldar codex:
Many Falcon pilots specialise in flying hidden within the clouds only to dive from the skies, pulse lasers and shuriken weapons spitting death into the ranks of the enemy.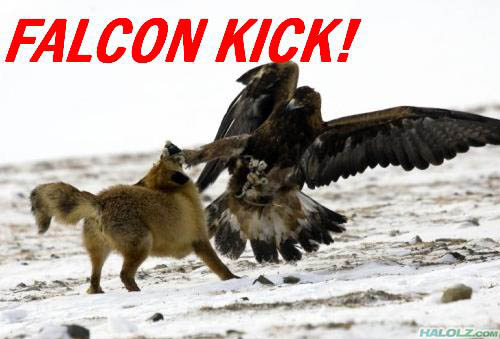 Or Tank-shock, it's all the same.
That is really cool to me. I love the image of a Falcon appearing out of the sky with a small unit of Fire Dragons, maybe an Autarch as well leading the assault, diving into the weakest point of the enemy. The Fire Dragons leap out and barrel roll into cover or maybe rappel down an Eldar fast rope (I love helicopter fast ropes, they're so cool) while the Falcon is pummeling the foe with it's advanced heavy weapons and protecting the unit from fire with it's holo-fields and shields. The Fire Dragons finish unloading and set about blasting apart tanks too slow to get away and too surprised to react.
Even better, imagine a squadron of these. Devastating fluff-wise and game-wise. And why not? Guard have squadrons all over the place, why not Eldar?
Further ranting: Now that sounds like deep-striking to me,
flying from the clouds
,
into the ranks of the enemy.
But wait, does the Falcon have deep-strike? (sounds of codex pages flipping, a small gasp of mock surprise) NO. It doesn't. Really why not. Land Speeders have deep-strike, Land RAIDERS have deep-strike.
Why do Falcons with a specific piece of fluff that describes deep-striking to the letter and from a race with unparalleled skimmer technology not have deep-strike!
Games Workshop 'logic' really is beyond me.