As I continue to play Tyranids my army continues to evolve, appropriate. I have found that my current list has two weaknesses which are addressed in this list. Firstly, my Venomthropes never lived past turn 1 in my last 5 games so they need protected. The easiest way to do this is to add a Prime to the unit to provide instant death protection and close combat power.
Next is to add some anti-infantry firepower as all my killing potential is in the assault, I need something to soften up my targets before assaulting. Here my old Devilgaunts step in to provide buckets of shooting at a decent range. Very cool.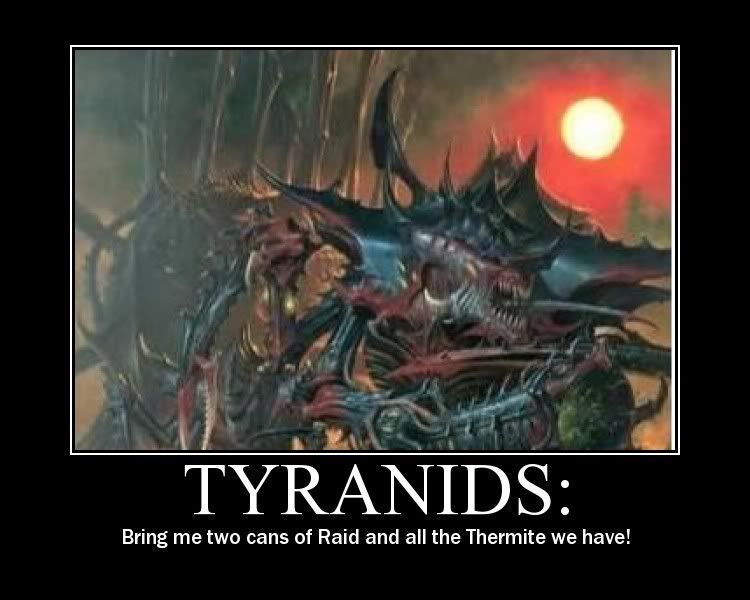 HQ
Prime
Lash Whip/Bonesword
Adrenal Glands
Regenerate
Deathspitter
= 120
Elites
3 Zoanthropes
= 180
2 Venomthropes
=110
Troops
30 Termagaunts
= 150
30 Termagaunts
= 150
15 Devilgaunts
= 150
Tervigon
Toxin Sacs
Adrenal Glands
Catalyst
= 195
Tervigon
Toxin Sacs
Adrenal Glands
Catalyst
= 195
5 Genestealers
Toxin Sacs
= 85
Fast Attack
3 Shrikes
Bonesword/Lash Whips
Scything Talons
Toxin Sacs
= 165
TOTAL = 1500
So this functions the same as my last list in the fact that it plans to dominate the center of the board with the mass of gaunts supported by Tervigons and Venomthropes. The Shrikes act as a counter assault unit and intercept any rock hard units (Terminators). The Devilgaunts shoot and soften up units for assault by the Termagaunts and get cover and FnP from supporting units. The Prime joins the Venomthropes and provides more combat capability and joins the Devilgaunts once the Venomthropes die (which they probably will). The Genestealers will take out/tie up Devastators and such like to provide a distraction and stop heavy weapons.
So what do you think?